Landscape Design is a creative process, finding artistic and practical solutions that fit your landscape and your lifestyle.  I study the property, noting its unique features. I gather input from the client to set priorities.
Then, a plan is composed to fulfill your goals.  The design will improve beauty, value, safety and usability, while reducing maintenance, and incorporating personal expression.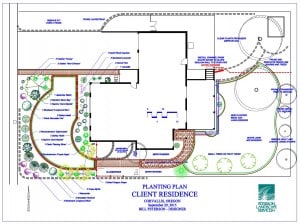 As an experienced designer and landscape contractor, I will incorporate practical concerns such as drainage, sun exposure, proximity to neighbors and other issues. Site features and development requirements are woven seamlessly into the tapestry of your landscape design.
At this stage, the process for installation and care of your yard is also created.  Each project, built from beginning to end, requires unique application of some common tools and techniques.
How does your landscape measure up to it's potential?
CLICK HERE to see how your property 'measures up'.

Print the list